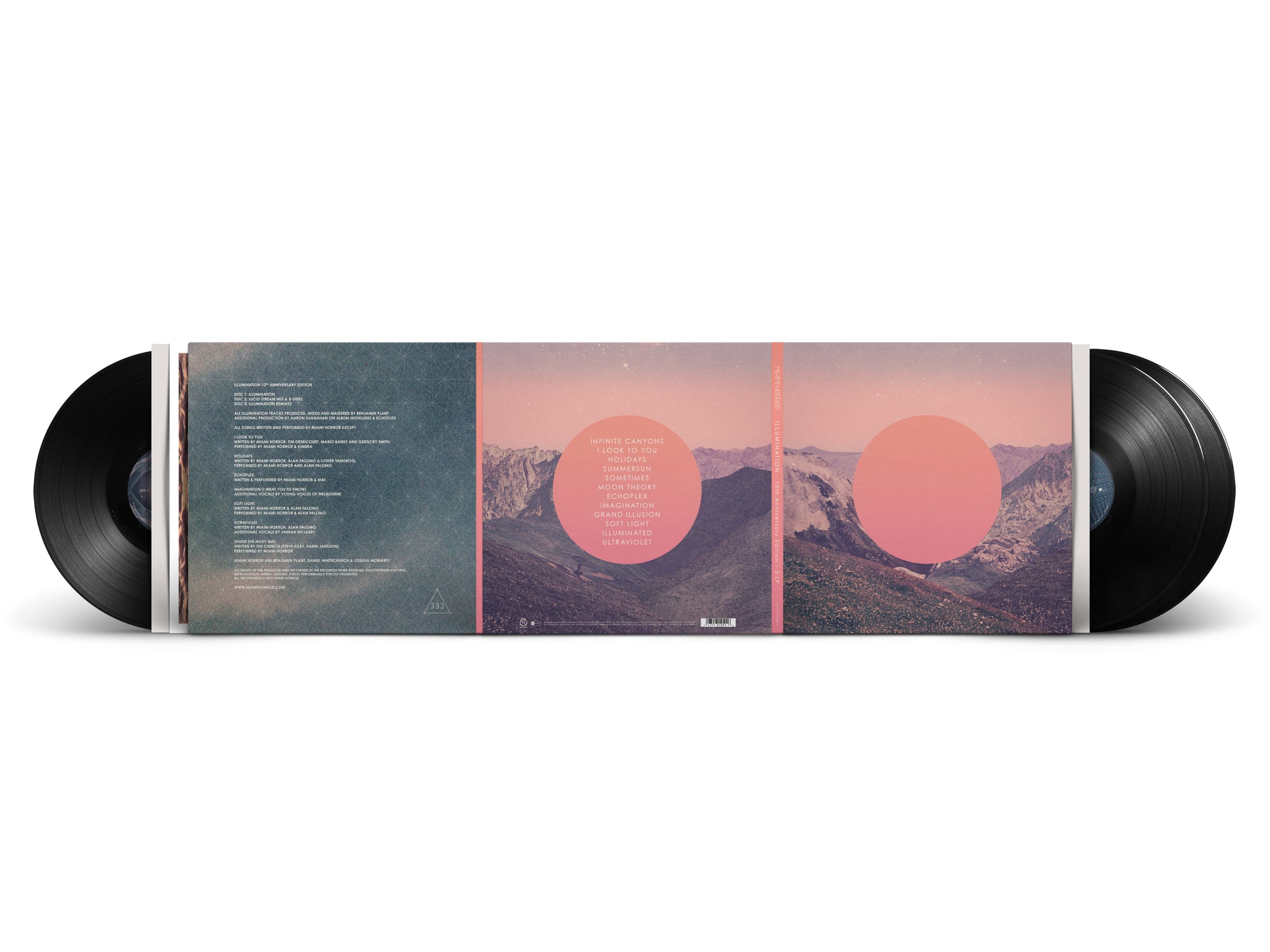 Illumination - 10 Year Anniversary - Triple Vinyl Edition
Miami Horror have released a very special 10th anniversary edition of their seminal debut, the ARIA-nominated album Illumination, after having the original record out of stock for many years.
Illumination 10th Anniversary Edition includes for the first time on vinyl twelve remixes, four B-sides, and a lush 25-minute trip through the entire record entitled "Lucid Stream", in addition to updated mixes and masters of the original album, 
"I started working on 'Illumination' at around 19-years-old and finished it by 24," Plant explains. "You're going through the crossover period of being a teenager to an adult. You still have a lot of life ahead of you, but you see the world innocently. The album was made during this crossover in my life where I got to see something come to fruition. I was in the imaginative period where you don't have the burdens of adulthood yet. The music focuses on the wonder of the adventure itself. I had started to rekindle that feeling before the re-release. Everything was coming full circle, and it felt like the perfect moment to reintroduce this."
After a whirlwind decade, they've certainly earned a moment to reflect…

During 2020, the idea to re-up illumination first germinated. It began with a large demand for the vinyl to be restocked, but it morphed into something bigger. "It was a chance for us to come back and celebrate the album in a way we didn't get to at the time it was released because everything was so crazy," he admits.  "We never really got the chance to enjoy it. It's a bit sentimental. We're celebrating the atmosphere of
what existed in music before streaming and social media. We got back to purely creating."

In the end, Miami Horror both rediscover the wonder of Illumination and expand it. "When I started this band and now, I always liked to create a place where people could escape from the world," he leaves off.  "Everything is very heavy at the moment in society and culturally. This is a safe place. I'd like to induce a sense of imagination in the music. We're allowing you to get away from life for a minute and the
standards of normal pop music."
Illumination 10 Year Anniversary includes 3 vinyl and a brand new 18x24 poster collage, highlighting artwork otherwise found exclusively within the original CD booklet for the original release of Illumination.
*PRE-ORDER NOW, SHIPPING ESTIMATED FOR EARLY DECEMBER*
Lucid Stream (a 25 minute alternate album mix)
I Look To You (Franc Moody Remix)
Moon Theory (Punks Jump Up Remix)
Holidays (Sam Sparro & Jessie Rogg Remix)
I Look To You (Tim Fuchs Remix)
Holidays (Miami Horror & Cassian Remix)
I Look To You (Lucid Stream Remix)