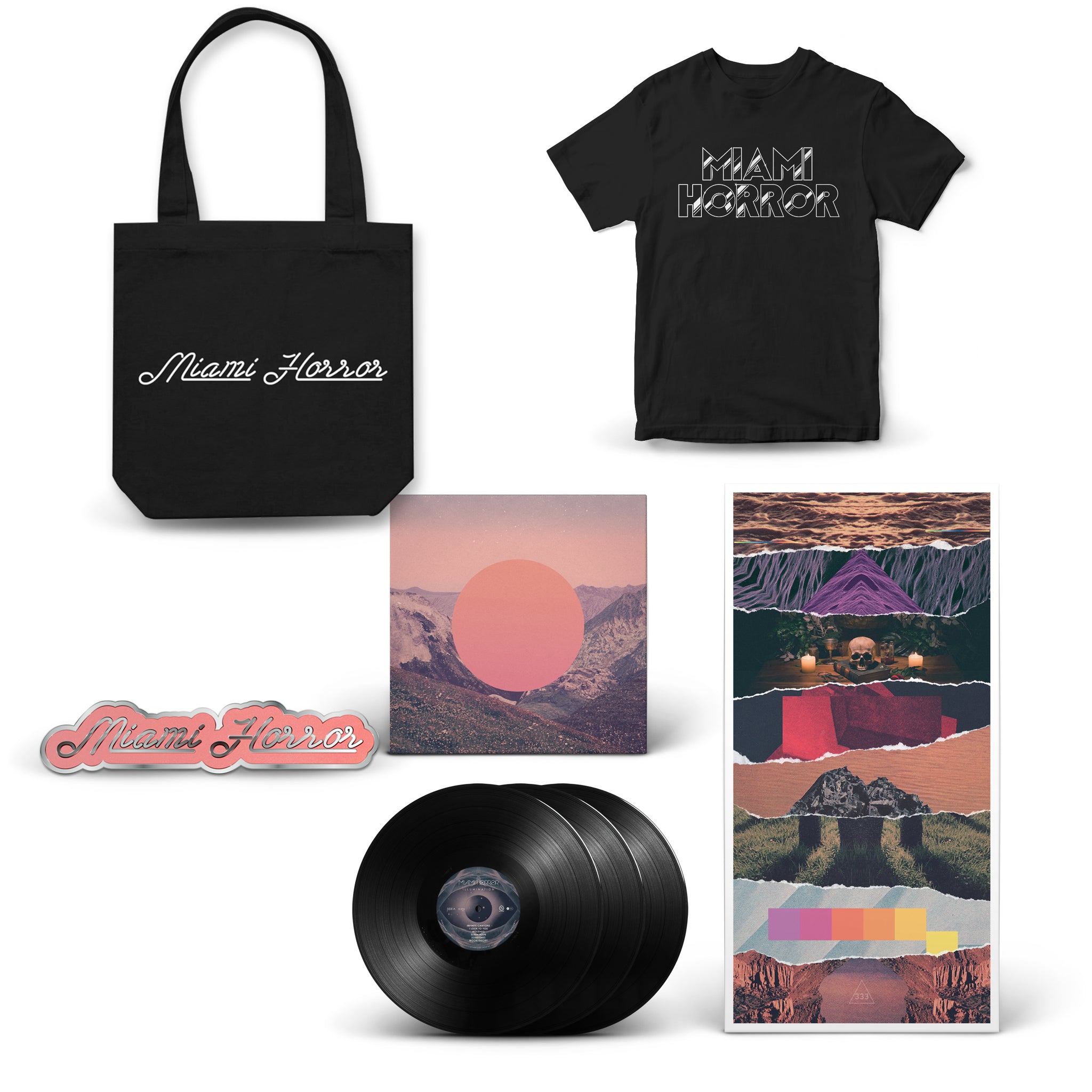 Illumination - 10 Anniversary Edition Vinyl, T-Shirt, Tote Bag, and Pin Bundle
In early 2021, Miami Horror released a very special 10th anniversary edition of their seminal debut, the ARIA-nominated album Illumination.

Illumination 10th Anniversary Edition includes for the first time on vinyl twelve remixes, four B-sides, and a lush 25-minute trip through the entire record entitled "Lucid Stream", in addition to updated mixes and masters of the original album, 
To celebrate the release, Miami Horror have made a very special 3-piece vinyl set inclusive of a 18x24" poster collage, highlighting artwork otherwise found exclusively within the original CD booklet for the original release of Illumination available for fans. Alongside the vinyl and the poster, this bundle features a re-print of their 2008 "vintage" logo on a black tee, their first heavy tote bag featuring the 2015 cursive logo printed on one side, and the same logo against the Illumination pink on an enamel pin manufactured by Pintrill.
*PRE-ORDER NOW, SHIPPING ESTIMATED FOR EARLY DECEMBER*
Lucid Stream (a 25 minute alternate album mix)
I Look To You (Franc Moody Remix)
Moon Theory (Punks Jump Up Remix)
Holidays (Sam Sparro & Jessie Rogg Remix)
I Look To You (Tim Fuchs Remix)
Holidays (Miami Horror & Cassian Remix)
I Look To You (Lucid Stream Remix)
This product is expected to ship in early December 2020.